I love posts like these! I think tags are a great way to get to know some of your favourite bloggers on a more personal level. I was planning on doing the Christmas Tag anyway, but I was also tagged by the lovely Lasma from https://alawafoxbeauty.blogspot.co.uk and I can't say no to that. There are ten christmassy questions and I'm so excited to be answering them. You can check out Lasma's post here and don't forget to give her a follow on social media.
1. What's you favourite Christmas movie?
I am obsessed with Elf. I watch it every year and I never get tired of it. It's the jolliest film I've ever seen and I think we're all Buddy the Elf at heart, despite what our exteriors might suggest.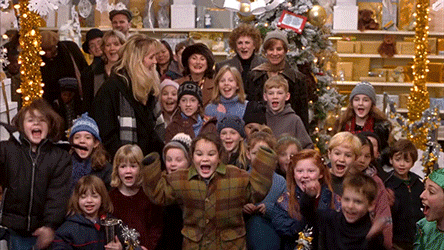 2. What are your favourite Christmas colours?
My favourite Christmas colours are probably red, gold and silver. I would love to have a massive tree so I could dress it in these colours and all the fairy lights in the world.
3. Do you like to stay in your PJ's or dress up for Christmas?
When I used to live with my family back in Romania I had to dress up because we used to visit a lot of people or there was someone over at our house but now that I'm on my own, far away from home, I can stay in my pj's all day if I want to.
4. If you could buy only one person a Christmas present this year, who would it be?
This is a hard question. I like giving presents and make people happy and I can't choose just one person, especially between my mum and dad. I would buy one gift that could benefit both of them. Does that count?
5. Do you open your presents Christmas Eve or Christmas morning?
I am a really impatient person but I always loved opening presents on Christmas morning. Or maybe I was forced to do it that day because there were never presents under the tree before that.
6. Have you ever built a gingerbread house?
Me and my mum bought a gingerbread house kit a few years ago and we completely failed at building it. That was my one and only attempt but I would love to try it again.
7. What do you like to do on your Christmas break?
I eat (a lot), I sleep (a lot), I catch up on tv shows (I am basically a homebody) and I also like to go ice skating. Besides that I will probably be stuck doing revision and essays during my Christmas break this year.
8. Any Christmas wishes?
My only wish this year is to have a really nice and cheerful celebration.
9. Favourite Christmas smells?
I love smells like cinnamon or orange but my favourite one that basically screams CHRISTMAS to me is the smell of a fresh pine tree.
10. Favourite Christmas meal or treat?
There's a traditional Romanian meal that we usually eat during the holidays. That is my favourite thing to eat not just at Christmas but anytime throughout the year and my mum cooks it to perfection.
And that was it. I really enjoyed answering these questions and now I want to tag some of my favourite bloggers and hopefully they would like answering them too!
Em from https://emilyybecca.wordpress.com
Fran from https://apageofmeblog.wordpress.com
Melissa from http://www.melissa-lou.com
Maisie from http://www.lovemaisie.com
Katherine from http://www.millennialrants.co.uk
SaveSave